Saturday, September 23, 2006
Holy motherfussing Mary and Jesus! The Pope just called me a cunk for not updating in what feels like forever.. I have my excuses, wrapped up and ready in dog-chewed lost homework.. misplaced mp3's down back of sofa and eyes walked out on me etc..

So now detention is over and for your delectation, I bring with me some goodness and a warm hello to your ears...


First off.. (all assuming that's where it should begin...)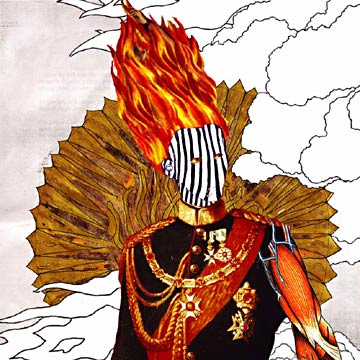 Subtle - Midas Gutz

Their new album 'For Hero:For Fool' is amazing. Simple as that. As a better man once said, 'they're rewriting music' The lp is so full of ideas that it might just implode in a mushroom cloud of much goodness. This song is the most hip-hop of the lot and bodes well for the third themselves record. Up to now I thought I'd heard the full range of doseone's voices (and that's a lot) but I was immediately drawn in by the lazy drawl of the first and last last verse. Album of the year? I think so.






Poni Hoax - LA Murder Motel (Letom Redrum remix by Principles of Geometry)

Five odd minutes of electric sleaze that creeps up with nonchalant ease, then strangles out a messy mangled conclusion.. There's a full zip of the single package here..
©©©©©©©©©©©©©©©© professional thomas at 4:46 PM 0 comments  

Thursday, September 07, 2006
How longs it been? Far too long... I survived Brooklyn with only minor scratches and only took part in two Drive-By shootings.. A huge hug to all I met.

I bought some fine records from Mondo Kim's and I'm going to be helping them make the journey from Vinyl to MP3 as soon as I've got some time back. In the meantime, here's one I made earlier...





Times New Viking - Love
Shouty girl/boy guitar song that sounds like it was recorded in a shoebox by an angry sparrow.. High praise indeed. It's so damn fucking cool, it makes me want to buy a pair of sunglasses and chain smoke cigarettes. You can be their friend and hear more songs here.







The Lovely people at Seed Records have put together a free compilation of the finest electronic music in support of Soviet, which should be the fiercest night out for quite some time.
Music this good speaks for itself and says things like 'Would you like another chewing gum?' and 'I'll get the water'. Perfectly suited to both headphone and dancefloor, catch it before it's gone.. Bleep will be hosting the goodness until the end of October.






Gudrun Gut - Move Me

Shuffle tinged tango dubby music with breathy vocals. I love it. Released on Earsugar on a lovely bit of vinyl. Turn it up and it'll shake your house down.
©©©©©©©©©©©©©©©© professional thomas at 1:03 PM 0 comments